PROJECT
Ver­sa­til­ity of the Olivio enables indi­vid­ual design solu­tions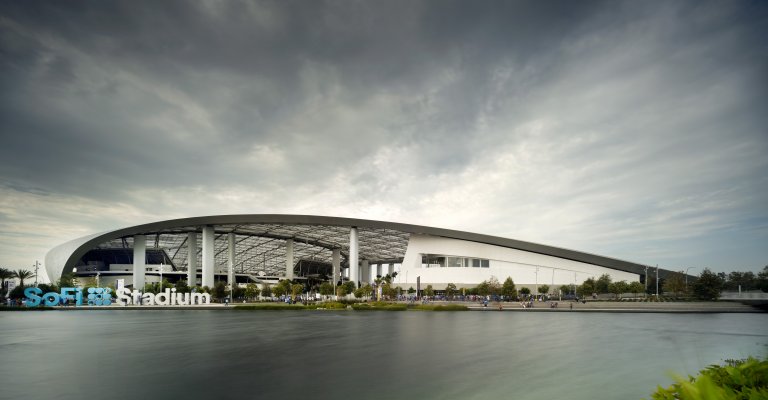 SoFi Stadium
Inglewood, CA
The new SoFi Stadium in Inglewood, Calif., is the NFL's largest sports facility. It opened in September 2020 and is scheduled to host the opening and closing ceremonies of the 2028 olympic games. SoFi Stadium is a center of attention, located at the former Hollywood Park Racetrack and Los Angeles Forum. Designed by HKS Architects, the 19.5 acre roof shelters 70,000 seats in the arena, a 6,000-seat performance venue, and the 2.5-acre American Airlines Plaza. The open-air stadium now stands as the first indoor/outdoor stadium ever constructed and is the largest stadium in the NFL, covering 3.1 million square feet.
The HKS design team faced a challenge in designing the stadium because of Federal Aviation Association (FAA) height regulations and becasue of the stadium's close proximity to LAX Airport just a few miles away. Los Angeles Rams Owner and Chairman E. Stanley Kroenke became the visionary 298- acre sports and entertainment destination. SoFi stadium is now the new home for the LA Rams and LA Chargers.
SoFi Stadium also includes 25 acres of parks and open space for the community. Around the exterior of the building is where you will find the Selux Olivio Sistema 2, an exterior luminaire creating an impressive look that is ideally harmonized with the surrounding environment. Olivio Sistema is highly expressive and creates attractive visual accents. The Selux Olivia Sistema 2 is positioned around the stadium, with luminaire heads arranged staggered, around the pole with a tilt/swivel range of 0º - 175º and a 360º rotation depending on where they wanted the light to be focused. With pole heights of up to 39ft, various arms, and the ability to place various lighting points in differing heights, Olivio provide a great deal of creative freedom.
---
architect HKS
---
client/owner StadCo LA and Hollywood Park Land Co.
---
lighting designer Lam Partners
---
photographer © Nic Lehoux
---
agent PLP SoCal